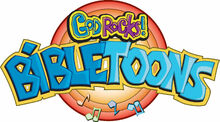 God Rocks! BibleToons is a Christian children's series created by Bruce W. Stacey. This series mixed 2D animation with live-action skits. It was released in 2005 as a follow-up to the 2002-2004 3D-animated series God Rocks!, whose last episode "Flip-Flop and Rock" was a transition into this series.
From 2006-2007, the show began featuring a three-episode compilation mini-series BibleToons BeatTown, which featured songs from the God Rocks! albums (mainly BibleToons) along with talk about their meanings.
In 2007, God Rocks! BibleToons first aired on Daystar and CTS every Saturday along with the original God Rocks! CGI series. The following year, one last episode, "Starlight Rescue!", was produced for a VBS program of the same name.
In 2009, the show was taken off Daystar and moved to TBN. As of October 26, 2013, it has been replaced by RocKidsTV.
Cast
Todd Neilson - Chip Livingstone/Flint Rockly/Additional Voices
Sheryl Stacey Neilson - Gem
Jordan Elgie - Splinter/Beach Stone
Tyler Seidenberg - Carb/Beach Stone #2
Ian Tanner - Walter Concrete/Beat Rock #2/Beach Stone (singing voice)
Moira Brown - Ruby
Marina Felix - Nuggie Livingstone
Bruce W. Stacey - Mini-Bot/Dragon
Ruth Ramirez - Soul Stone
Jim Witter - Beat Rock #1/Beach Stone #2 (singing voice)
Matt Tapley - Beat Rock #3/Beach Stone #3 (singing voice)
Amoy Levy - Soul Stone 1 (singing voice)
Nicole Sinclair - Soul Stone 2 & 3 (singing voices)
Episodes